In October of 1988, Lyn St. James came to the Talladega Superspeedway with the sole purpose of breaking as many speed records as she possibly could.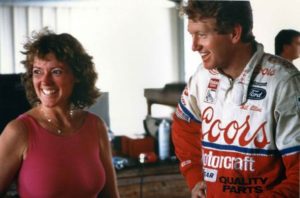 On the first day of a two-day session, sitting behind the wheel of a 1989 Ford Thunderbird Super Coupe prepared by Bill Elliott's race team, St. James put down the fastest lap ever recorded by a woman on an oval track at 212.435 mph. The next day she broke her own record, recording a top speed of 232.400 mph, before the Thunderbird's motor gave way. "Your desire and your passion outweigh rational thinking," St. James said of her fast lap.  
All told, St. James and her team set or broke 21 FIA international and national speed records, including 16 that could be held either by men or women in a car that we are proud to have on display at the International Motorsports Hall of Fame.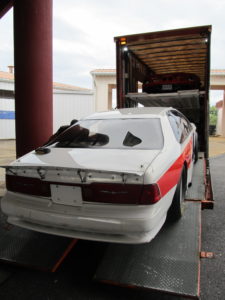 St. James is the honoree at the 26th annual Amelia Island Concourse d'Elegance.  "The Amelia" is a two-time winner of the prestigious International Historic Motoring Awards and is a celebration of the automobile like no other featuring more than 300 rare vehicles from collections around the world. Ford and Amelia Island wanted to include the Ford Thunderbird Super Coupe that St. James drove at Talladega and we were more than happy to oblige. So, Tuesday, the car was loaded-up and transported to Amelia Island where it will be on display all weekend. 
If you would like to see this unique, super-fast Super Coupe for yourself, we plan on having it back on display in our museum Wednesday, May 26.
The International Motorsports Hall of Fame will be hosting its own car show in October as a fundraiser to protect our state's racing heritage. You can find information about the IMHOF Heritage Preservation event by clicking on this link: https://imhofhp.com