By Mike Raita, Executive Director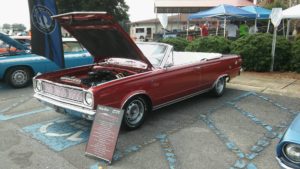 If you like bright and shiny, if you like cutting edge technology or classic nostalgia, the International Motorsports Hall of Fame and Museum was the place to be on Saturday, July 24 for Mopars at the Museum sponsored by the Birmingham Mopar Owners Club.
People often hear the name "Mopar" used in automotive circles, but what exactly does it mean? After all, there are no "Mopar" dealerships that sell cars that have "Mopar" brand badges on them like "Ford" blue ovals or "Chevrolet" bowties. 
The Mopar name has its roots with the Chrysler corporation, going back nearly 100 years, with Chrysler formally introducing the brand name in 1937. Since that time, the term has basically become synonymous in automotive circles with any Chrysler-built vehicle, which would include Chrysler (obviously), Dodge, Ram, Plymouth, Imperial and DeSoto.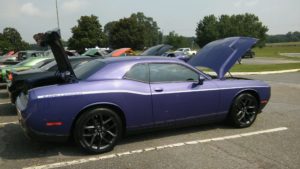 Congratulations to Jake Istvanditsch who won the award for Best Modern car with his 2010 Dodge Challenger, Rick Humphries who won the award for Best Classic car with his 1969 Dodge Charger and David Downs who won the Linex Best in Show with his 1969 Super Bee.
And a big "thank you" to Eric Perrine, Pam and Gene Lowery, Scott Harris and the rest of the BMOC for organizing and running the show. All proceeds were donated to the IMHOF as part of our Alabama Racing Heritage Preservation fundraising drive.