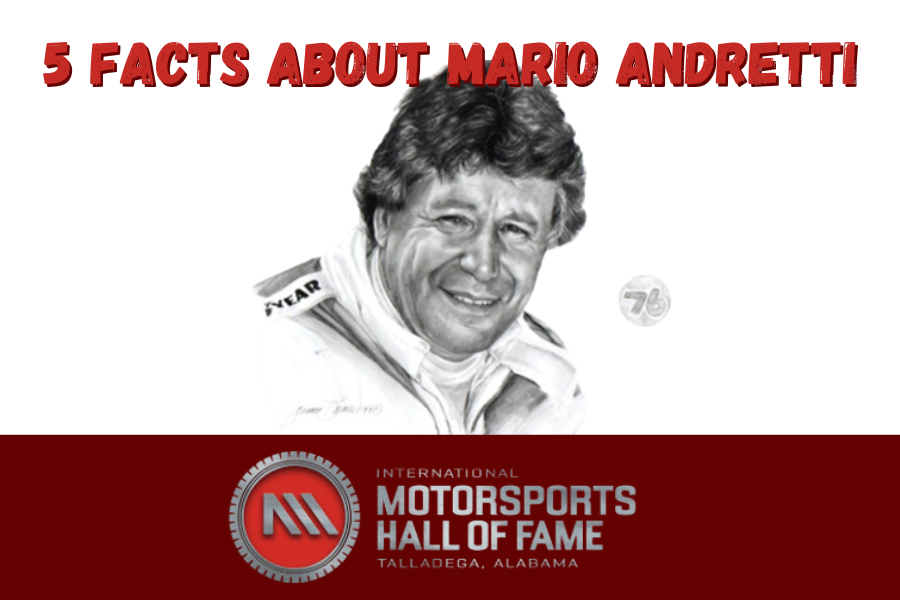 Mario Andretti is often hailed as one of the all-time greats in motorsports history. Having competed in nearly every major motorsport event, Andretti finished his five-decade career taking home the checkered flag 111 times. While you could fill an encyclopedia full of Mario Andretti's accolades, these five facts should help give an idea of Andretti's lasting influence on motorsports.
5 Fun Facts About Mario Andretti
#1: Mario Andretti Dominated Motorsports 
Mario Andretti Is One Of Two Drivers To Have Won Races In Nearly Every Major Motorsports Category.
As mentioned above, Mario Andretti is one of only two drivers in motorsport history to have won races in Indy Car, FormulaOne, NASCAR, and the World Sportscar Championship. Additional accolades include winning the Indianapolis 500, the Daytona 500, the FormulaOne World Championship, the Pikes Peak Hillclimb, 4x Indy Car National Championships, and a 3x winner at Seabring. 
#2: Multi-Time Driver Of The Year
Mario Andretti Stands As The Only Person To Be Named Driver of the Year In 3 Separate Decades. 
As fact number two states, Mario Andretti is the only person to be named Driver of the year in three separate decades (60's, 70's, & 80's). However, this fact gets even more impressive. In the '90s, Andretti was named Driver of the Quarter Century; at the beginning of 2000, Andretti was named Driver of the Century. 
#3: Formula 1 History 
Mario Andretti Was The Last American Driver To Win An F1 Race. 
In 1978, Mario Andretti solidified a spot in history as the last American to have won an F1 race. Competing in the Dutch Grand Prix, Andretti finished first place over Ronnie Peterson by a narrow margin, beating him by .32 seconds. 
#4: Movie Fame 
Mario Andretti Appeared In The Hit 2006 Disney Movie "Cars." 
While Mario Andretti has led a hall-of-fame racing career, many may be surprised to know that Mario Andretti made a celebrity cameo in the hit 2006 Disney Movie, "Cars." In the movie, Andretti plays himself, a 1967 Ford Fairlane, which was the exact car Andretti used to secure his victory in the Daytona 500. 
#5: Retirement 
Mario Andretti Officially Retires From Open-Wheel Racing In 1994
Racing legend Mario Andretti retired from racing in 1994 after a successful career spanning 5 decades. Andretti's success however didn't stop there. Post-racing, Mario Andretti worked as a consultant and spokesperson for Bridgestone, GoDaddy, Mattel, and Honda. In addition, Andretti is the proud owner of his personal vineyard as well as a petroleum company.
Mario Andretti is undoubtedly one of the greatest motorsport racers of all time and it is no wonder why he is a legendary motorsport hall of fame member. Discover more at the International Motorsports Hall of Fame!